Recommended books relating to diabetes, also enabling you to Buy from Amazon.co.uk

This book is well written in clear and simple language. It is designed to be used by you, the patient. It is detailed and takes you through step by step everything you need to know. Many people regard this book as the bible of pumping.
Buy from Amazon.co.uk or from Amazon.com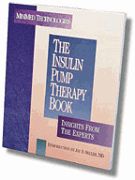 Edited by Linda Fredrickson, MA, RN, CDE
This book is published by MiniMed, and is aimed mainly at doctors and healthcare professionals who want detailed practical advice on how to start a patient on an insulin pump. However many pump users find this book very readable, and a source of much valuable information.

By Ragnar Hanas
A highly praised book, giving valuable advice and tips about managing your diabetes. This book shows in a practical way what you need to know to be able to take good care of your diabetes. Having diabetes means that you need to know more about the disease than the average doctor, to be able to understand and take care of your illness in an appropriate way. This book includes an excellent chapter on insulin pump therapy.
Buy from Amazon.co.uk or from Amazon.com
The chapter on insulin pumps can also be read on-line at http://www.piara.com/pdf/hanas_pump.pdf.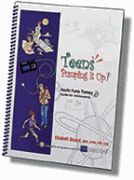 By Elizabeth Boland, MSN, CDE
Teens Pumping It Up! is a guide for teenagers and their families who are interested in pump therapy. It was written by Elizabeth Boland, a nurse specializing in diabetes care. It includes a description of insulin pump therapy and many practical things about using an insulin pump. Thoughts from teenagers who wear pumps are also provided.
Available in the UK from MiniMed UK. Email sales@minimed.co.uk or tel (UK) 01293 212213. This book can also be read on-line at www.diabetesliving.com.
---

Many people's favourite for carbohydrate counting. A small robust pocket book listing over 3000 foods - both branded products and ingredients, giving Calories, protein, carbohydrate, fat and fibre.
Buy from Amazon.co.uk or from Amazon.com
For an online food search, see Food and Nutrition Information Center
---

By John Walsh, Ruth Roberts, Lois Jovanovic-Peterson.
Information you need to match insulin doses to food and exercise, adjust for highs, lows and emergencies, as well as charting blood sugars.
Buy from Amazon.co.uk or from Amazon.com

Patrick G. Jobe writes: "I picked this up at the library (of all places!). It is a really good book with a lot of lists, information and practical advice. It is not specifically about pumping but it is very pump-aware with some specific advice about traveling with your pump. I liked the book a lot and may get a copy for future reference."
Buy from Amazon.co.uk or from Amazon.com
Buy from Amazon.co.uk or from Amazon.com

Well-meaning parents often make living with diabetes more complex than needed. Diagnosed at eleven, 20-year-old Alicia McAuliffe here uses personal experiences, and those of the kids with diabetes whom she now counsels, to examine issues that often lead to strained family relationships. She shows how the often overlooked social and emotional aspects of diabetes are equally as important to the child as treating the condition itself.
Buy from Amazon.co.uk or from Amazon.com

by Richard K Bernstein MD, Timothy J Aubert, Frank Vinicor
Richard Bernstein, a New York based diabetes specialist who has diabetes himself, holds some unconventional views about diabetes treatment. He advocates a very low carbohydrate, high fat diet. Although this runs counter to mainstream thinking, many people report that their diabetes control and sense of well being improves dramatically. Insulin Pumpers does not endorse his views, but we think this book is an interesting read with some challenging ideas.
Buy from Amazon.co.uk or from Amazon.com
by Joseph I Goodman, W Watts Biggers
In simple and straightforward language, this source-book for people just diagnosed, as well as long-term diabetics, has been completely revised and updated to include the very latest in treatments, research, information and technologies.
Buy from Amazon.co.uk or from Amazon.com
---
by Lois Jovanovic-Peterson MD, June Biermann (Contributor), Barbara Toohey (Contributor)
For women, diabetes compounds the problems caused by puberty, periods, pregnancy, and menopause. This book covers each of those topics in detail. Although printed sometime ago, this best-selling classic remains the only book to address these unique problems.
Buy from Amazon.co.uk or from Amazon.com
---

A comprehensive understanding of the evolution of diabetes research, brings us up to date on current therapeutic options, and helps readers to grasp the many challenges that still lie ahead. For the families of people with diabetes and the medical professionals who care for them, it also offers a rare and frank insight into the life of a diabetic person beyond the day-to-day physical management of the disease. Going further than the clinical language of blood tests, diets, and insulin regimens, it shows diabetes as a force that molds a person's personality and profoundly shapes his or her life.
Buy from Amazon.co.uk or from Amazon.com

A memoir of growing up with diabetes. Beautifully written, revelatory, and profoundly affecting. Needles is a classic account of a young life transformed by illness.
Buy from Amazon.co.uk or from Amazon.com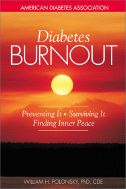 "And even the constant need for decisions might be tolerable, if only the results were predictable. Few things generate burnout like the awful frustrations of having followed instructions and done everything just right and still be failing to get the diabetes into control. At those times it seems no use to continue to try. Think how discouraging it is to fail at something you really want to do. Then consider what it must feel like to have diabetes and be failing at something you never, ever, wanted to do in the first place."

by Lisa Roney
One reader writes: "One of the most realistic autobiographies about DM that I have read. Many of the other ones make it seem like no big deal, but this one admits that it is a big part of life, and I especially liked that. It's smooth reading too. Very good. I definitely recommend it to everyone."
Also see Jeff Weintein's review of this book at Salon.com.
Buy from Amazon.co.uk or from Amazon.com
The story of Banting and Best and their lucky discovery attained by sacrificing many test dogs is interesting as is the description of the personal conflicts between the four men associated with the discovery. Of particular interest is the portion that describes the routine treatment of diabetes - starvation. This was only back in the 1920s. A vivid reminder of how far treatment has come. There have been some large jumps in treatment and technology, including the pump since then. Progress will continue, until there is perhaps... a cure (?). A good read for the pancreaticaly challenged (your friends might find it boring :-)
Buy from Amazon.co.uk or from Amazon.com
---

Insulin Pumpers UK is a member of the Amazon.co.uk associates program. Where links are shown, books can be purchased on-line from Amazon.co.uk.
You can also search the entire Amazon.co.uk catalogue and purchase any book, by entering its title, author or a few key-words here:
We're always looking for new books to recommend. If you'd like to recommend one, please write to us at editor@insulin-pumpers.org.uk.
Created: Jan 1999; Last updated: Saturday 21 February 2004
---
---
---
---
Nobody has left a comment on this page yet. Why not be the first?